Hi there.
I've been following your videos for quite some time, and finally found this forum where I'll share a little bit of info about my setup.
Here is my very small homelab rack: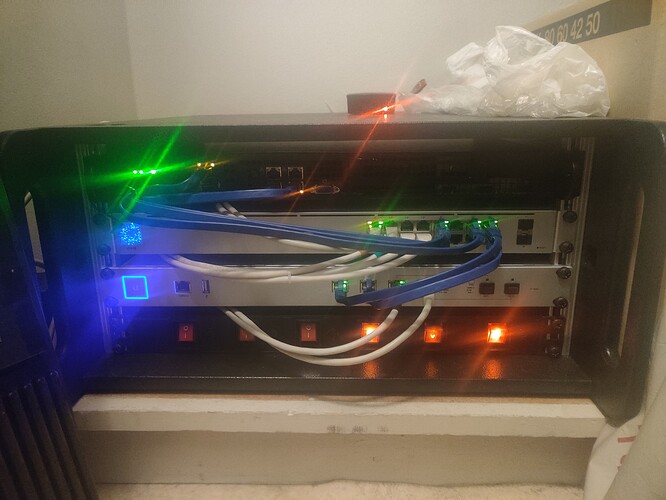 This rack consist of the following hardware:
Power switch
UniFi Security Gateway Pro (USG-PRO-4)
UniFi Switch 16 PoE (USW-16-POE)
SuperMicro Rack server (A2SDi-4C-HLN4F motherboard in CSE-505-203B cabinet)
1 Raspberry Pi 4 on top
The server has Quad-core Intel Atom 2.2 GHz, 32 GB of Ram, 4x Gigabit LAN + BMC/IPMI port, 500GB NVMe system disk and 4x 2 TB SSD Raid-Z.
Now the really amazing thing about this setup is that the entire rack uses …
54 Watts when running - that's Firewall, Main switch and 2 Servers ! (the Pi uses 3,5 Watts)
This is about 1,3 kWh per day.
The servers are running a variety of things (most of them in Docker):
UniFi controller (my own local and my family remote control)
Unbound DNS (primary and secondary on the Pi)
Samba shares
Bookstack
Nextcloud
Transmission
Various utilities (Webmin, Portainer, Proxy Manager, Iperf3 etc.)
At some point, I'm thinking about also running Mailserver, Home Assistant and other things.
I'm so happy with this small setup, and the very low energy usage.