Following the Arch linux Installation video on learn linux tv channel
Context:
Setting up the disk using UEFI without encryption
Laptop details: Acer Aspire 7 - ryzen 5, AMD cpu, Nvidea GTX 1650 Ti
I am currently using ubuntu 20.04
Everything went well, until installing grub, (video timestamp : 1:23:30)
grub-install --target=x86_64-efi --bootloader-id=grub_uefi --recheck

Error
grub-install: error: disk 'lvmid / (lg UUID...) / (lv_root UUID...))' not found.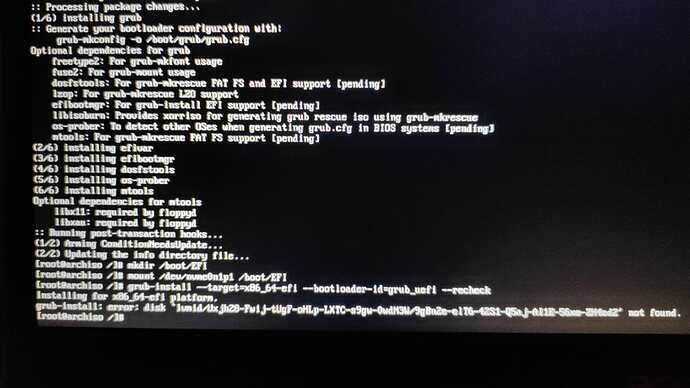 Errror at last line.
It is : disk ' lvmid / lg UUID / lv_ root UUID '
The UUID matches on lvdisplay and lgdisplay.
These both disk UUID's are not found which is causing this error.
I found some material / threads on research
(Much more but not able to share due to forums restrictions)
How do I know if I have Hardware RAID in my laptop ?
To be honest, I didn't completely understood these thread, so I came here to ask for help.
I really want to get arch running. I am not really understanding what is the error and why is it occurring, is my system(hardware) not compatible it should be though or am I missing something ???
Please help me with this guys, thanks in advance.